What: Peaceful protest against home foreclosures and in support of the Cruz family
When: Wednesday, June 20, 10am-2pm
Where: 607 Green Valley Rd. (see map below)
3,300,000 homes have been lost to foreclosure nation wide since 2010. There are 296 NEW foreclosure fillings per month in Guilford County. The foreclosure crisis is a direct result of the corporate malfeasance and bank fraud perpetrated by the 1% against the 99%. Occupy Greensboro stands in solidarity with everyone facing foreclosure and the many groups that are working to help families in foreclosure.
Since April 30, Occupy Homes MN has been working with the Cruz family, whose home went into foreclosure after a bank error. PNC Bank executives acknowledged their error and repeatedly told Cruz supporters that they're working on a solution. However, they've refused to work with the family, instead working with Freddie Mac and the city of Minneapolis to launch a series of costly police raids against the home. These raids resulted in 23 arrests in less than a week.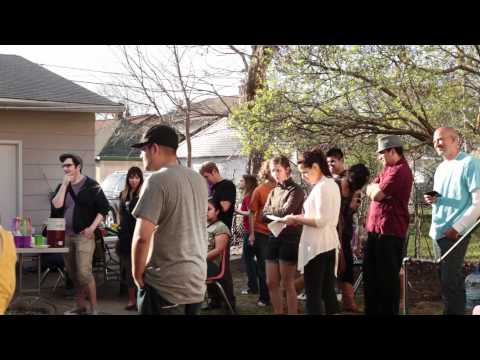 Despite ongoing protests, the banks still think we'll go away if they ignore us long enough. It's time to show them otherwise: on June 19, Alejandra and David Cruz will be travelling along with a team of supporters to PNC Bank's Pittsburgh headquarters to hand-deliver their modification documents and demand a meeting with CEO Jim Rohr!
Occupy Greensboro stands in solidarity with Occupy Homes MN's call for a national day of action on PNC to coincide with the Cruz's arrival. Join us tomorrow at the PNC Bank branch at 607 Green Valley Rd in the Friendly Shopping Center from 10am – 2pm. We'll hold a symbolic house warming party for the thousands of Guilford County residents who have lost their homes by moving into a UHAUL trailer!
Bring food, bring house warming gifts, and then go tell the bank manager that you expect them to work with the Cruz family the next day when they visit PNC Bank's corporate headquarters.
Map & Directions

View Larger Map